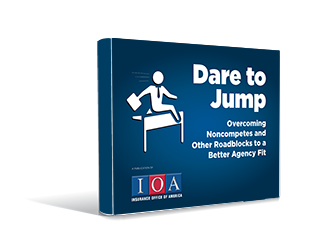 You May Have More Options Than You Think
In the ebook "Dare to Jump: Overcoming Noncompetes and Other Roadblocks to a Better Agency Fit," we break down restrictive covenants, financial concerns, and other roadblocks that may be keeping you from moving to a better agency. We look at:
Noncompetes, nondisclosures, and nonsolicitation agreements and their scope and enforceability.
Buying your book of business and how to pay for it.
Approaches to a financial transition.
Asking questions that will help you make the most informed decision.
The vast difference between typical compensation models and the entrepreneurial model.
If you are a top performer and want to expand your opportunities, the entrepreneurial model—where higher commissions, book equity interest, and stock options are available—may be right for you. There are no guarantees, but don't leave possibly millions on the table when all it takes is some research and asking questions.