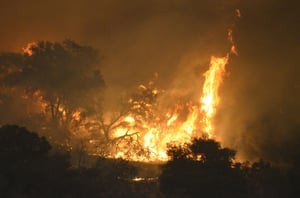 A report released by Moody's Investors Service shows that insurance companies will face more wildfire losses this year than they have already. The report estimates that insured losses due to the Carr fire alone have totaled up to $1.5 billion already, including the destruction of over 1,500 homes and commercial structures, and burning of 121,000 acres of land. This figure is expected to grow as the fire continues to burn.
As it stands, the California insurance industry won't be getting a break after a costly wildfire year in 2017, as a separate Moody's report shows that the probability for another major wildfire loss this year is high.
Portions of Shasta County close to Redding in Northern California are among areas devastated, with six people having been killed along with the immense property damage left in the fire's wake.
California Braces for More, Even Before the Carr Fire is Contained
"The Carr fire portends high California wildfire losses for the remainder of 2018, following almost $12 billion of insured losses for the October and December 2017 wildfires, a credit negative for California homeowners and commercial property insurers," Moody's stated in their report.
It went on to emphasize that when compared to previous years' fires, losses will likely reach the billions mark. An estimated 1,555 structures have been destroyed, with values averaging $991,000 each. This figure is current, but the fire continues to rage and the number will almost undoubtedly increase.
Beyond these estimations, the claim size forecasts are expected to be low compared to what their final costs will be. This is a result of the demand for construction in a region affected by a wildfire is extremely high. This means prices for construction labor and materials have increased, and may result in losses greater than what they would have been last year.
Staying at the top of the insurance producer game requires an awareness and understanding of the struggles insurers are facing and consumer expectations. How can you be expected to advise your clients on the best policies available if you don't understand what they're looking for?
Having freedoms in the workplace can not only make your job easier, but it can help you better service your clients. Download our complimentary ebook, "The 3 Freedoms Key for Ultimate Producer Success," and discover what factors may be keeping you from accomplishing your goals.